Archive for October, 2009
October 17th, 2009 Categories: Alexandria, Potomac Yard/Greens
The Station at Potomac Yards – a mixed used commercial and residential space – celebrated its grand opening today with a ceremony in the new, state of the art Fire Station #209, the first in Alexandria  in more than 30 years.
Despite the cold and constant rain, more than 150 people turned out for the ceremonies and the tours that followed.
It was a great chance to get a first hand look at the station that will serve Del Ray and provide a permanent home for specialized hazardous waste equipment.
The station was designed with an eye to the future and can accommodate a larger staff if warranted and serve as a command post in times of national emergency.
Conveniently arranged on one level (no more sliding down a pole), the station has a large eat in kitchen with floor to ceiling windows, an all purpose "family" room, 15 individual sleeping rooms, each with a single bed, table, chair, light and phone; four large bathrooms, laundry rooms, conference rooms and office, training and storage space.
As much fun as we had though, it was clear that the day belonged to little boys.
Heuer, Dane, Nolan
With fireman's hats, boots and slickers, it was a day for inspecting the equipment, sitting in the drivers seat and soaking up lots to tell mom.
Kudos to the City of Alexandria for the public/private cooperation that made the Station at Potomac Yards a reality.  For more, click here.
Michael
Related stories:
Posted by Michael Bergin | Currently 1 Comment »
October 16th, 2009 Categories: Alexandria
Get ready – it's time to rake and recycle in preparation for the City of Alexandria's 2009 Leaf Collection program.  Here are the three ways to recycle your leaves:
1)  Rake your leaves to the curb for vacuum truck collection
Remove stones, litter, branches or other debris
Avoid placing leaves in from of storm drains, or water meter covers.  Move parked cars off of leaf piles.
Do not use plastic bags – this is for loose leaves only.
Leaves must be in piles at the curb and visible, not in alleys or service roads.
Leaves must be raked out before the earliest scheduled collection day for your area.
2) Place leaves in biodegradable bags for collection
Use only biodegradable bags because they may be shredded and processed into mulch
Remove dirt, stones, litter and other debris.
Bags will be collected one business day after regular trash collection days beginning October 27 – January 4. 
3)  Compost leaves and yard waste
For detailed information, call the Virginia Extension Service at 703.228.6400.
2009 Alexandria Leaf Collection Service Areas
For specific rake out and start dates in your area, click here.
Happy raking!
Michael
Posted by Michael Bergin | Currently No Comments »
October 13th, 2009 Categories: Real Estate News
Builder Magazine has released it's Fall 2009 Update on the nation's healthiest housing markets and Northern Virginia – Alexandria and Arlington – along with Washington, DC – ranks at #3.
The report, prepared by Hanley Wood Market Intelligence, uses a metric that includes home price appreciation (or depreciation), job growth, household growth, unemployment and median income growth.
This is what Hanley Wood has to say about the Northern Virginia area:
"Northern Virginia/Washington, D.C., is one of the few major markets to actually record an increase in new home sales this year; sales were up 17% through June,  though the market slowed in September. The federal government appears to be living up to its reputation as a counter-cyclical buffer, though many of the jobs in the nation's capital are now in the tech sector. Home prices in this high-priced region seemed to correct early.
Median home prices fell 20% in 2008 and have fallen another 21% through September of this year. But market researcher Dan Fulton recently asserted that home prices probably won't decline further. In his opinion, Northern Virginia doesn't have enough housing, while Maryland's Prince George's and Charles counties continue to suffer from oversupply. Northern Virginia/Washington qualifies as one of the most affluent markets in the country with a median income of $83,500."
What does this mean to you?  If you are a buyer and inventory continues to decrease, prices will rise.  If you are a seller, less inventory means fewer days on the market and a stronger position for negotiating.  Either way, all indicators point towards a robust market as we head into the fourth quarter.
Want to know more about what is happening in your particular neighborhood?  Give me a call at 703.927.4554 or email me at [email protected]
Michael
Posted by Michael Bergin | Currently 3 Comments »
October 11th, 2009 Categories: Old Town, Scenic Sundays
On this Scenic Sunday in Old Town Alexandria, I was on my way home from church – and on my way to an open house – when I passed this mass of Virginia Creeper hanging over a fence on Cameron Street.  I stopped to get a quick picture and then looked up, up, up to see the entire side of house covered in reds and golds.
What's better than a great Scenic Sunday in Old Town Alexandria?
Michael
Posted by Michael Bergin | Currently No Comments »
October 10th, 2009 Categories: Real Estate News
The Commonwealth of Virginia kicked off its third annual October Sales Tax Holiday for Energy Efficient Products yesterday and it will continue through Monday, October 12.
During this time, purchases of certain Energy Star and WaterSense qualified products for non-commercial use and costing less than $2.500 will be tax exempt.  The exempt Energy Star items include:
dishwashers
washing machines
refrigerators
air conditioners
ceiling fans
compact fluorescent light bulbs
programmable thermostats that carry the Energy Star designation.
The exempt WaterSense items include:
bathroom sink faucets
faucet accessories
toilets.
If you need to replace certain kitchen or bathroom items or if you just want to upgrade, this is a great time to take advantage of Columbus Day Sales – and save on taxes.
Michael
Posted by Michael Bergin | Currently No Comments »
October 9th, 2009 Categories: Book Report
First, let me say that I do not have a GPS in my car.  That doesn't stop me from finding my way around but I do come up short sometimes in finding a gas station or a much needed bite to eat – especially on long driving trips. So, this edition of the BERGIN BOOK REPORT is all about two unique books, Exit Now and Next Exit.
Exit Now is the "Official Exit Directory of the Good Sam Club".  The Good Sam Club is "the World's Largest RV Owners Community" and Exit Now very much reflects the special issues faced by RV drivers or drivers pulling a camper or even a moving van – like a large area in which to turn around or even pull over.
Other issues addressed by the book are regular gas stations with diesel fuel, RV friendly locations, pet friendly locations, local festivals and low clearances.
In fact, there is a special section in the back that details low clearances state by state.
Exit Now is spiral bound which makes it easy to use in a car and  it starts with I-4 eastbound from Tampa to Dayton and ends with the I-710 by-pass around Los Angeles.  Laid out like an atlas, the book moves smoothly from state to state and interstate to interstate.
I picked up some good reviews on Amazon  for Exit Now but there were also one or two that pointed out some deficiencies so check for yourself.
the Next EXIT is very similar in strategy and layout but also had some mixed reviews. (Although have you ever read a book that everyone agreed on?).  You click here to see a sample page.
You can of course download similar information on your computer or Blackberry or IPhone but what I like about having this kind of book is that almost anyone can use it and you can see more than one or two exits at a glance.  The down side of course is that they are books which means, for instance,, that some closings of state run  rest stops may not be included.
Still, if you are making a move across country or even from one adjoining state to another, this is a terrific resource to make the drive easier.  And what about vacations, trips to college, visiting children and grandchildren?  I know I'm putting one in our car – what about you?
Michael
Posted by Michael Bergin | Currently 2 Comments »
October 7th, 2009 Categories: Real Estate News
In the September 2009 Real Estate Market Watch for Northern Virginia released by Coldwell Banker, the results of a survey by Zillow.com reveal an interesting perception about the real estate market.  The survey found that 56% of homeowners in the Northeast (including Northern Virginia) felt that their home's value decreased in past 12 months.
In reality, 77% of homes actually decreased in value.  More interesting is how the homeowners project the future of home values — 82% believed their home will increase in value or stay the same in the next six months.
Overall we applaud a positive attitude but the reality is that – in most places – a generous  inventory of homes will prevent prices from increasing.  We think four months of increasing sales may have contributed to this overconfidence.
And, although 2009 August sales decreased from the previous month, the sales are still better than 2008 August, which is a positive indicator.  As you will see in some of the area graphs listed below, more new listings came on the market in September than were sold. However, the graphs reveal some counties are experiencing much lower inventories indicating the beginning of an appreciating market in that area.
 September 2009 Listings and Sales for Northern Virginia 
The trends in these current graphs are the best indication of whether home values will continue to decrease or begin to increase depending on the local market.  This means sellers in most areas need to be very realistic about the price position of their house so they won't lose more value by chasing the market down.  Home sellers should remember it is the buyer's perception of value that determines sale prices, not the seller's.  For buyers, this reveals excellent buying opportunities in a market posed to appreciate in the future.
If you or someone you know would like additional insights into this current market, please contact me at 703.927.4554 or [email protected].
Michael
Posted by Michael Bergin | Currently No Comments »
October 6th, 2009 Categories: Alexandria, Things to Do
Now in it's 16th year, Alexandria"s Pumpkin Patch at Immanuel-Church-On-the-Hill is a community event in the very best sense of the word.
Church members staff the event, neighbors spread the word on local listservs and folks come from all around to buy pumpkins, decorative gourds, bags of hay, and homemade soups and desserts.    
Best of all, the proceeds from the sale – over $35,000 last year –  go to support community organizations like the Network Preschool, ALIVE!, Carpenters Shelter and Community Lodgings.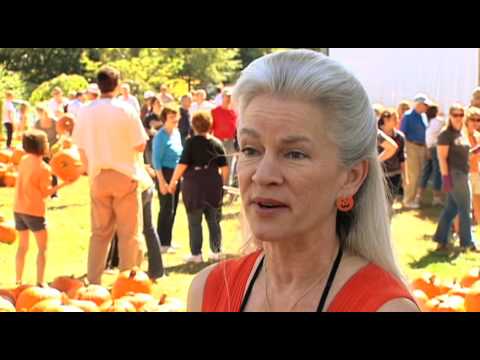 On the other end, the wholesale purchase of over 10,000 pumpkins benefits the Navajo Indian tribes in the northern regions of New Mexico who, over the year, create some 300 jobs directly related to the planting and cultivation of the pumpkins.
A special shout out to Wendy John who, along with her husband Doug, is the driving force behind this spectacular event.
Whether you're looking for something to cook or decorate – or maybe just a great afternoon out with the kids – the Pumpkin Patch is a great place to be.
Alexandria's Pumpkin Patch is open now through October 31
10:00am to 8:00pm daily
Prices range from $1 – $25
See you there!
Michael
Posted by Michael Bergin | Currently No Comments »
October 5th, 2009 Categories: Real Estate News
Sponsored by Habitat for Humanity, World Habitat Day calls attention to the lack of adequate housing that affects much of the world.
As a Realtor it is very easy to get caught up in the day to day business of listings, working with buyers, tortured short sales, price points, etc. etc.  And in many ways I live in a small cocoon of indulgence – helping people buy and sell houses.
But there is a larger world out there – one where people live in tents or slums or substandard housing – and will for the rest of their lives.
I honestly don't know if I will ever really be able to make a difference in the life of someone in Africa or Latin America or Asia but I do know that at least educating myself is the first step.
What can you do for World Habitat Day 2009?
Educate yourself and your friends and family.
Advocate for decent housing for all.
Join a World Habitat Day event in your community.
Visit World Habitat Day events.
Donate to support Habitat's efforts.
Donate online today.
Thank you for taking the time to read this –
Michael
Posted by Michael Bergin | Currently 5 Comments »
October 1st, 2009 Categories: Whatever
In this day and time when every dollar counts, there are three things you can do to keep you car in shape and add to the bottom line.
1) Keep your engine properly tuned.
If your car is noticeably out of tune or has failed and emissions test, fixing those two things can improve gas mileage by an average of 4 percent.   Correcting a serious maintenance problem, like a faulty oxygen sensor, can improve mileage as much as 40 percent.
2) Keep tires properly inflated.
Improve gas mileage by about 3.3 percent by keeping tires inflated to the proper pressure.  Under-inflated tires can lower gas mileage by 0.3 percent for every 1 psi drop in pressure of all four tires.  Properly inflated tires are safer and last longer.
The proper tire pressure for your vehicle is usually found on a sticker in the driver's side door jamb or the glove box and in your owner's manual. Do not use the maximum pressure printed on the tire's sidewall.
3) Use the recommended grade of motor oil.
You can improve your gas mileage by 1-2 percent by using the manufacturer's recommended grade of motor oil. For example, using 10W-30 motor oil in an engine designed to use 5W-30 can lower your gas mileage by 1-2 percent.
Using 5W-30 in an engine designed for 5W-20 can lower your gas mileage by 1-1.5 percent. Also, look for motor oil that says "Energy Conserving" on the API performance symbol to be sure it contains friction-reducing additives.
Yes, it may take a bit of effort and a tad of money up front, but in the long run, keeping your car in shape adds to the bottom line.
Michael
Note: Cost savings are based on an assumed fuel price of $2.58/gallon.
Posted by Michael Bergin | Currently No Comments »