Archive for September, 2010
September 19th, 2010 Categories: Scenic Sundays
Although not a historic home, this private residence on St. Asaph in Old Town Alexandria is one of my very favorites.
Always immaculately "groomed", the proportions, the landscaping and the eye for detail make this a perfect example of classic Old Town Alexandria architecture.
Michael

Posted by Michael Bergin | Currently No Comments »
September 16th, 2010 Categories: Real Estate News, Whatever
Last June, Arlington native and rapper Remy Munasifi hit the YouTube airwaves with a hysterical take on living the yuppie life in Northern Virginia.
As the Washington Post noted, the rap makes "gentle sport of Virginia's most liberal community as a wonky,
nice-but-maybe-too-nice haven for Prius-driving, latte-sipping, crunchy-granola-eating suburbanites."
Thousand of hits later, Rapper Remy is taking on the Washington Metropolitan Area Transit Authority – or METRO. Anyone who rides the METRO, for work or pleasure, will appreciate this good natured jab at a system that just can't get it right.
I think you're going to like this . . .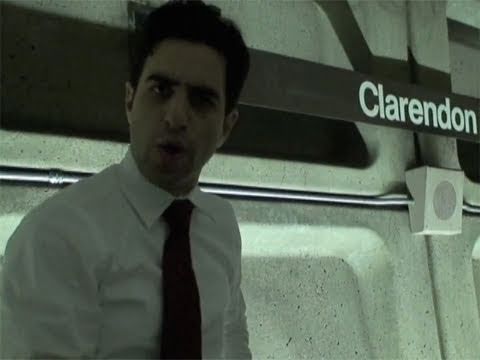 As funny as this may be, properties near METRO stations are still highly sought after.
If you are in the market for a METRO lifestyle, give me a call at 703.927.4554 and let's make it happen.
Michael

Posted by Michael Bergin | Currently 1 Comment »
September 15th, 2010 Categories: Real Estate News
Yesterday we introduced you to an article in the Wall Street Journal – Five Mistakes that Home Buyers Make – by Susan Max.  We are taking each one of Susan's "mistakes" and adding on to them from what we know about real estate here in Alexandria and Northern Virginia.
The first mistake was "snubbing the real estate agent" (you have to know we really liked this one).  And now for her second point:
"Guesstimating how much you can afford: Many buyers take a do-it-yourself approach to financing.  They use online calculators to estimate how much house they can afford, dive into the house hunt and then get a dose of cold water when lenders refuse to qualify them for that amount.  The process is so different than it was four or five years ago . . .  Not only are lenders reading loan applications closely . . . they're verifying employment and running credit checks multiple times during the process.
Make a date with a mortgage broker of banker before you get serious about your search.  Remember too that the costs of buying and owing a home go well beyond the sticker price.  While online calculators do take into account property tax and insurance, it's up to you to account for maintenance costs, moving fees and association dues."
From a practical standpoint, no Realtor® worth his salt will even begin working with a buyer unless they have a qualifying letter in hand.  It's impractical for the agent and it can only raise false hopes for the buyer.  What if you see a home you absolutely fall in love with and then find that there is absolutely no way you can afford it?  Anything after that will only be second best.
Take your worries, your "what if's", your maybe not so great credit history, your employment records, your aspirations, to a professional mortgage broker or banker.  Let them help you figure out what's right for you, what you need to do to make it better and finally, what the bottom line is going to look like.
Questions about the Five Mistake Home Owners Make?  Ask me at 703.927.4554.
Tomorrow – "letting charm cloud your judgment."
Michael

Posted by Michael Bergin | Currently No Comments »
September 14th, 2010 Categories: Real Estate News
Susan Max of the Wall Street Journal recently wrote a piece called Five Mistakes that Home Buyers Make.
Susan notes that despite what the 'experts' would have you believe about the state of the real estate market, 4 million existing homes will be sold in 2010 and that first time buyers will benefit.
Still, she cautions the overconfident buyer on these five mistakes that (first time) home buyers make.
We're going to take them one by one, adding own our twist.  Let's start with snubbing the real estate agent:

"With so many Websites offering a mass of data on listings, who needs an agent?  Most people actually.
Finding a house and figuring out comps  . . . is the easy part.  Managing the nuances of offers, inspections, financing and all other pivotal steps to buying a home is where many new buyers tend to get tripped up  . . . .  When you hire an agent to act as your 'buyer's representative', she/he is obligated to put your interests first even if her/his commission is paid by the seller and based on the sale price."
What Susan did not elaborate on here is that not every state recognizes or allows for a separate buyers representative. (Real estate law varies widely from state to state.)
The Commonwealth of Virginia does however and I am an Accredited Buyers Representative.
Be keenly aware that if you do not have your own representative and instead choose to work with the same agent who is listing the property that is for sale, his or her first obligation is to the seller with whom they already have a contract.  There will be certain information that they cannot disclose as the listing agent.
They are not doing this to be mean or play favorites, it is just a matter of law.  Conversely, a buyer's representative cannot reveal certain information about you to the sellers.
Get your own representative who will look out for you and you alone.
Tomorrow, "guesstimating how much you can afford. '
Questions?  Ask me at 703.927.4554.
Michael

Posted by Michael Bergin | Currently No Comments »
September 13th, 2010 Categories: Alexandria, Real Estate News
The Winkler Botanical Preserve, a small, fiercely loved and protected Alexandria enclave is the topic of a Town Hall meeting with Congressman Jim Moran on Thursday, September 16th.
These are the basic facts.  The Winkler Preserve, located off Beauregard St in the West End of Alexandria has co-existed quite peacefully with both commercial and residential developments for many years.
Then the Department of Defense announced it's Base Realignment and Closure Process or BRAC.
One of the major initiatives of BRAC for Northern Virginia was to move many of the offices surrounding the Pentagon to areas that would not be as vulnerable to attack.
This was done in two parts. One was to dramatically increase the size and functions of Ft. Belvoir in Fairfax County.  The other was to build a large office complex at Seminary Road and I-95.
What was never fully realized at any point was a viable plan to accomodate the additional traffic on an already stressed system, especially for workers at the office complex.
Fairfax County has lobbied both the Virginia Department of Transportation (VDOT) and the federal government to build a road strait through Winkler to provide highway access to the complex.
City of Alexandria residents, the Friends of Winkler, our neighbors in Lincolnia Hills and Congressman Jim Moran have lobbied hard for an alternative

As one communication from Save Winkler noted "although Congressman Moran is very supportive of the Preserve and is attempting through legislation to force the military to address the transportation problems, it is not the Defense Department's objective to protect the Preserve."
With that in mind, Congressman Moran has invited panelists from the Defense Department, VDOT, and Alexandria City and Fairfax governments to a Town Hall Meeting on Thursday, September 16th, to discuss the impending traffic crisis at Mark Center.
The Town Hall Meeting will begin at 7:30pm at the Francis C. Hammond Middle School, 4646 Seminary Road, Alexandria, VA 22304.  Get involved and be part of the solution.
This is about more than just traffic . . .

Michael

Posted by Michael Bergin | Currently No Comments »
September 12th, 2010 Categories: Scenic Sundays
Any stop sign looks better with decoration.  Seen at the corner of DeWitt and Custis in Alexandria's Del Ray neighborhood.
Posted by Michael Bergin | Currently No Comments »
September 9th, 2010 Categories: Market Reports, Real Estate News
The Real Estate Market Report for Alexandria and Northern Virginia for August 2010 was released earlier this week amidst dire news on the national level.
Any homebuyer or seller who reads the news headlines can become quickly disheartened or elated depending on which publication, blog, or news station they are following.
There is no doubt that conflicting information is being reported on the real estate industry on a daily basis.
The reported information is not necessarily false, but the reality is that real estate is a very local business. What is happening in regards to sales, pricing, or foreclosures nationally or even state-wide, may not be the reality in your community or your neighborhood.

Understanding how this information impacts you directly can also be difficult to navigate.  The National Association of Realtors®, the leading source of information for the real estate industry, just reported that the national median existing-home price for all housing types was up 0.7 percent in July from a year ago; a very positive sign that home prices and the market have stabilized.
Yet completed transactions dropped 27.2 percent from June to July 2010, initiating news reports that the market is far from recovery.
To confuse matters further, some online real estate companies are launching programs that allow homeowners to pre-list their homes online to test whether or not they will sell and for what price.
The online community essentially weighs-in on the value of the property. Ultimately, these types of programs are forcing homebuyers and sellers to rely on non-professionals and strangers to advise them on one of their most important financial and life decisions.
Let's take a closer look at what is happening in Alexandria:

The number of August sales (143) were down 19.7% from (178) August 2009 and down 19.2% from July 2010. At the same time, August YTD sales are running 0.5% ahead of last year's year-to-date sales of 1,327.
The August median sales price of $417,000 was up>3.0% from the $405,000 in August 2009 but down 6.3% from July 2010.
The average sales price in August was $463,580, up 5.8% from $438,356 in August 2009 but down 3.5% from $480,335 last month.
For a more detailed look at the August 2010 real estate market reports for Alexandria and Northern Virginia, check out the specific locations below:
So what's the real deal?  How should this data impact your home buying or selling decisions?  Is the market stabilizing or flailing?  Are these online programs reliable or risky?
It's times like these that I can provide you with the solid facts that are relevant to you, in your neighborhood.

I not only have the experience and knowledge to assist you, but in the local marketplace everyday and have access to pertinent local data that can help you make sound home buying and selling decisions.
Whether you are a home seller who needs professional guidance to price a property appropriately, or a home
buyer who needs a responsible representative who will lead you through the process, I can advise you, dissect those national headlines, and give you the right kind of information to help you make the decisions that are right for you.

For help navigating the local real estate landscape, call me at 703.927.4554. I'm here for you.
Michael

Posted by Michael Bergin | Currently No Comments »
September 8th, 2010 Categories: Alexandria, Old Town
You have probably passed Elegance Inc. on King Street in Old Town Alexandria a thousand times.  You have noticed the one-of-a kind wedding dresses in the window.
You have admired the sumptuous fabrics and luxurious embellishments.
But have you ever gone in?
No?  Well, let me tell you what you are missing.
Filled with original designs, imported fabrics and trim, bridal veils and more, Elegance Inc. is where to come when you want to stand out from the crowd.
Mother of the bride? Embassy soiree?  A special anniversary?  This is where you need to be.  Elegance Inc. is an extraordinary boutique.
Originally from Afghanistan, owner Roya Hashimi studied fashion design in Germany for seven years and then met her husband while on vacation here in the United States.
Speaking no English and armed only with a fierce desire to make beautiful clothes, Roya bought remnants from G Street Fabrics, made over 100 sample designs at home, and set up shop at 1311 King Street.
With now perfect English and 13 years behind her, word of mouth has been her only advertising.
The designs that line the long main room – and the always enticing front window – are the ultimate come on.  Oh to be that slim and slinky!
Looking beyond the dazzle however, you see the attention to detail and the couture finishes that support the substantial price tags.
It's worth remembering that each design, each pattern is unique and hand cut.
Roya specializes in evening wear and often does entire bridal parties from the bride and groom, to attendants to family members.
As she laughingly noted, the more complicated the better.  Once, while still a student, she took out and resewed a zipper 17 times before it met her exacting standards!
Alterations are also part of the work at Elegance Inc. This is not the place for a hem or a few darts but if you are hard to fit or have "problem areas" the higher cost is well worth it.  Trust me, I know.
There is another side to Roya's business too.  Knowing that paid work was the best form of independence for women in her home country, Roya started a small factory in Afghanistan.
The women do intricate bead work, turning out unique belts and trim that Roya uses in her designs.  The past few years have taken a toll on this cottage industry but Roya is convinced that she is on the right path.
Now it's your turn.  The next time you pass Elegance Inc. on King Street in Old Town Alexandria; the next time you notice the one-of-a kind wedding dress in the window; the next time admire the sumptuous fabrics and luscious embellishments, go in.  You'll be glad you did.
And if you want to do a bit of looking beforehand, click here for the Elegance Inc. Web site.
Virginia Amos
Special to GWSlepthere.
Posted by Michael Bergin | Currently 1 Comment »
September 7th, 2010 Categories: Old Town, Real Estate News
This down to the studs renovation in Old Town Alexandria is right at the corner of Queen Street and Rt. One.
We pass it the property at least once a day and finally decided to stop and take some pictures.
Unfortunately there was no one on site who could give us any information.  The pictures though offer a pretty good indication of just what a total makeover this will be.
Not to worry, we'll be back with the finished product and more details.
Michael
Posted by Michael Bergin | Currently No Comments »
September 6th, 2010 Categories: Alexandria, Things to Do
Once again it's a busy fall season in Northern Virginia with a ton of things to do.  In fact, almost every weekend is jam packed.  So get your calendar out and start planning.  This is by no means a complete list but it reflects some of our very favorite people and places.
Fall is also a great time to buy a house.  Don't be discouraged by what you are hearing on the news.  Talk to a local real estate agent and get specific information about neighborhoods, prices, days on the market, financing, etc.  Don't forget that all real estate is local, local, local. Call me at 703.927.4554, I'd love to help you.


THINGS TO DO IN NORTHERN VIRGINIA FALL 2010
Sept. 11-12  – Alexandria Festival of the Arts (Old Town)
Sept. 18-19  – Virginia Wine Festival
Sept. 19 – 1st Woodrow Wilson Bridge Half Marathon
Sept. 23- Oct. 3 – Virginia State Fair
Sept. 25 – National Book Festival
Sept. 25 – Historic Alexandria Homes Tour (Old Town)
Oct. 1 – Corn Mazes
Oct. 2 – Art on the Avenue (Del Ray)
Oct. 2-3 – Fall Fiber Festival
Oct. 3 – Blessing of the Pets, Christ Church Alexandria
Oct. 5 – Pumpkin Patch, Immanuel on the Hill
Oct. 9-17 – Alexandria Boutique Week
Oct. 16 – International Gold Cup
Oct. 23 – 10th Annual Del Ray Chili Cook Off
Oct. 24 – 14th Annual Del Ray Halloween Parade
Nov.  25 – 5th Annual Turkey Trot 5 Miler
Nov. 25 – Christ Church Alexandria/Temple Beth El Thanksgiving Day Service
Nov. 26 – Dec. 19 – Mt. Vernon by Candlelight
Dec. 3 – Christmas Market Place/Scottish Walk Weekend
Dec. 4 – Scottish Walk Parade, Old Town Alexandria
Dec. 4 – Alexandria Holiday Boat Parade of Lights
Dec. 5 – Lessons and Carols, Christ Church Alexandria
Dec. 11 – Civil War Christmas at Ft. Ward Museum

Michael
Posted by Michael Bergin | Currently 2 Comments »