Archive for the 'Alexandria' Category
March 13th, 2011 Categories: Alexandria, Old Town, Real Estate News
Rumor has it that negotiations are underway for a new Harris Teeter in Old Town Alexandria.
An old, long abandoned warehouse at the corner of St. Aspah and Madison (and directly across from our favorite Royal Restaurant) is the supposed site.
This would put three grocery chains within six blocks of each other – Trader Joe's, Harris Teeter and Giant.
Earlier, now abandoned, plans called for a location on North Henry that would have served the Parker Gray and Braddock neighborhoods.
According to the Parker Gray Growl, the new location is "in an area that at present has no greater density than the Braddock neighborhood and which already has two operating and competing grocery stores.
This seems to demolish the City's contradictory defenses that retail is difficult to attract here due to competition from King Street and Potomac Yard or that that only ever high-density development can bring enough residents to support retail."
It will be interesting to see what happens.
Michael
Posted by Michael Bergin | Currently No Comments »
March 7th, 2011 Categories: Alexandria, Real Estate News
Homepath is a special financing program that Fannie Mae has for properties it currently owns through foreclosure.
The program allows for 97 percent owner occupied and 90 percent investor financing with NO MORTGAGE INSURANCE.  And it only requires a credit score of 660.
There are 40+ properties for sale or under contract in Alexandria.  Some not so nice, some nice.
BUT, if you are cash strapped or an investor, this may be an excellent opportunity to get in the market.
Take a look at the website and let me know if you need more information about the program.
Michael

Posted by Michael Bergin | Currently No Comments »
February 9th, 2011 Categories: Alexandria, Old Town
The Alexandria City Council has approved a pilot program for food vendor cards on Market Square in Old Town Alexandria.
The program, which will run from early April through October 2011, will allow a maximum of eight vendor carts to sell food and non-alcoholic beverages.
The carts will be in place from 11:00am to 5:00pm Monday thru Friday and on Sunday.  Saturday hours are from 1:00pm to 5:00pm because of the weekly Farmers Market in the same location.
Tables and chairs, supplied by the city, will be available on the plaza.
What foods will be available?  We don't know yet.
Only existing Old Town restaurants were invited to apply for the eight spots in the pilot program.
Applicants will be reviewed using the following criteria:

"Food and beverage offerings should not overlap, and should offer an appealing variety of choices for customers, as to type, price and degree of sophistication to the general Old Town market.
Vendors should understand the economics of their menu offerings, the cost of the operation and the market, and demonstrate in their application that they are knowledgeable about the elements of a successful vending business.
Vendors must commit to adhere to the Rules for Market Square Pilot Vending Cart Program."
Vendors will set their own prices and retail items (shirts, hats, etc.) will NOT be permitted.
I think this will be a terrific attraction for Alexandria residents, workers and visitors.  And since our Coldwell Banker office is directly across the street from Market Square I expect to be a regular!
Thinking about buying or selling a house in Alexandria?
Let's do lunch at the new vendor carts on Market Square in Old Town Alexandria – just give me a call at 703.927.4554.
Michael

Posted by Michael Bergin | Currently No Comments »
February 8th, 2011 Categories: Alexandria, Potomac Yard/Greens
The Potomac Yard Metro Station is set to open in 2016 – and a lot rests on that date holding firm.
In fact, funding for the station is absolutely dependent upon an on-time completion according to Vice Mayor Kerry Donley:

"Any slippage in time along the way costs more money in one of two ways. Either in expense or inability to gather revenue as quickly as we would like… all of our projections on bonds, all of our projections on repayment of the bond are all predicated on opening in 2016."

Our friends over at The Arlandrian do a great job of following City Council actions as they pertain to the proposed station.  In a recent post, Nick Partee tells us that:
An Environmental Impact Statement (EIS) is now underway and should last through 2013.  A project Web site is available for public information and viewing.
The City of Alexandria created a special tax district and tax increment financing (TIF) area to pay for the station. That revenue depends on development around the station, but the development depends on the station. The city has issued bonds to pay for the station and budgeted funds to cover the bond debt service the first few years, but is counting on the TIF for later years. If the station and surrounding development are delayed, the bond repayment costs could cut into other city services or cause other financial complications.
A project manager has been hired to keep the EIS process on track.
The EIS process includes refining the Metro station location alternatives. All alternatives are on the table, including not building the station as well as all station configurations — above ground, below ground, center platform, side platform, etc.
Two informational meetings will take place on Thursday, Feb. 10 at the Cora Kelly Recreation Center from 4:30 – 6:00pm and 6:30 – 8:00pm.  No reservations are necessary.

What does this mean for you and housing in and around Potomac Yard ?  Give me a call at 703.927.4554 and let's take a look.
Michael
Related Stories:
Posted by Michael Bergin | Currently No Comments »
December 7th, 2010 Categories: Alexandria, Things to Do
Saturday, Dec. 11, 2010 will mark the annual laying of Christmas wreaths at Arlington National Cemetery.
Started in 1992 by Morrill Worcester of Worcester Greens because he had a surplus of greenery, the wreaths are now an integral part of this national landmark.
Supported by the non-profit group Wreaths Across America to promote the remembrance of veterans, the project has grown to include wreath laying ceremonies in every state, Puerto Rico and in 24 overseas cemeteries.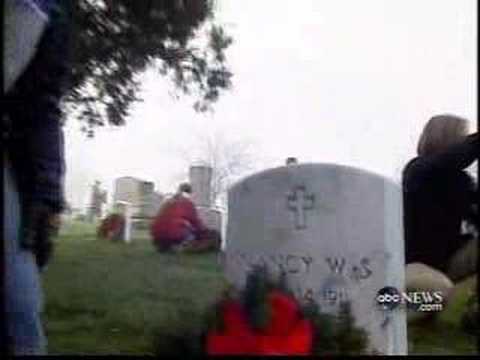 Over 100,000 wreaths have been placed, over 60,000 volunteers have participated.
The wreath convoy, escorted by local American Legion posts, VFW members, veteran biker groups and law enforcement, left Maine on Monday, Dec. 6th and will arrive in Virginia early Saturday morning.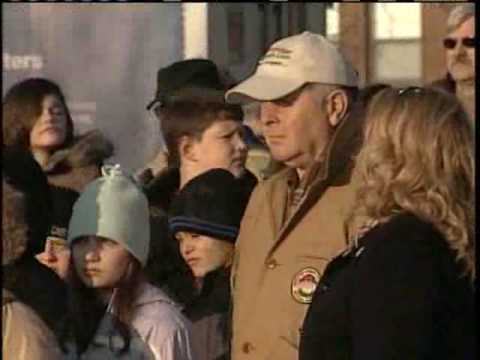 Join us at 12 noon on Saturday for the formal ceremony and take a moment to remember and to lay a wreath.
You'll be glad you did.
Michael

Posted by Michael Bergin | Currently 1 Comment »
December 7th, 2010 Categories: Alexandria, Del Ray, Things to Do
Shop Del Ray in Alexandria for All Your Holiday Needs!  It's no secret that we love Del Ray.  It's been our home for the past 20 years and we think it's a pretty special place.
The Del Ray Business Association, of which we are a proud member, has put together this terrific video on why you should shop Del Ray in Alexandria for all your holiday needs.  After all, it's where Main Street Still Exists.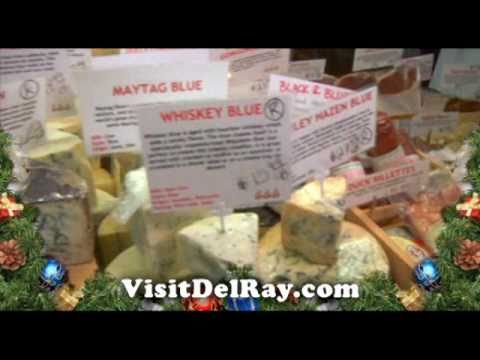 Michael
Posted by Michael Bergin | Currently No Comments »
December 4th, 2010 Categories: Alexandria, Old Town, Things to Do
Despite brisk 40 degree temperatures, crowds lined the streets of Old Town Alexandria today for the 40th Annual Scottish Walk Parade.
Alexandria's Scottish heritage was well represented with tartan clad clans, dogs, music and dancing.  It was a proud day for the bonnie laddies and lassies of Alexandria!
Michael
Posted by Michael Bergin | Currently 1 Comment »
December 2nd, 2010 Categories: Alexandria, Things to Do
Holiday house tours in and around Northern Virginia kick off this weekend.  Whether you stick close to home with the Historical Alexandria tours or travel a bit to take in St. Michaels, it's a lovely holiday treat.
St. Albans Christmas House Tour features five homes in Spring Valley.  Dec. 3 from 11:00am – 5:00pm and Dec. 4 from 10:00 – 4:00pm.  Tickets are $35.
Frederick, MD Candlelight House Tour opens seven private home in the Baker Park neighborhood.  Dec. 4, 5:30pm – 9:30pm and Dec. 5, noon – 4:00pm.  Tickets are $20.
Logan Circle Holiday House Tour highlights twelve homes in a self guided tour.  Dec. 5, 1:00pm – 5:00pm.  Tickets are $20 online, $25 day of the tour.
Holiday Candlelight Tour at Montpelier Mansion includes light refreshments and children's activities.  Dec. 10 and 11, Tickets are $3
Christmas in St. Michaels Tour of Homes is now in its 24th year.  Dec. 11, noon – 5:30pm and Dec. 12, 11:00am – 3:30pm.  Tickets are $20 in advance, $25 day of tour.

Historical Alexandria Candlelight Tours offer hot cider, period costumes and musical performances. Dec. 11, 6:00pm – 9:00pm and Dec. 12, 3:00pm – 6:–pm.  Tickets are $20; $15 for seniors; $15 for ages 6-17; children under five are free.
Michael

Posted by Michael Bergin | Currently 1 Comment »
November 29th, 2010 Categories: Alexandria, Real Estate News
The continuing controversy over the proposed move of some 6,400 military personnel to Mark Center on Seminary Road as part of the Base Realignment and Closure (BRAC) process has taken a new turn.
US Congressman Jim Moran, a senior member of the Defense Appropriations Committee, and Northern Virginia stalwart, announced that the Inspector General's office of the DoD has launched an investigation into the move.
According to an announcement released by the Congressman's office, "The development comes in response to the Congressman's continued pressure on the Defense Department to suspend or delay the move into the Mark Center site until the necessary transportation improvements to prevent a traffic nightmare on I-395 are implemented. Earlier this year, in addition to including a cap on the amount of parking at the site at 1,000 spaces, Moran authored language in the National Defense Authorization Act of 2011 that mandates the Inspector General to review the analysis that enabled DoD to bypass a full environmental impact study."
"In July 2008, an Environmental Assessment by the Army Corps of Engineers' concluded that relocating the 6,400 employees to the Mark Center would have no significant impact from a transportation perspective. Multiple studies have since called that assessment into question, including ones prepared by the Virginia Department of Transportation and even the Army's own report."

It makes you wonder if anyone in the Army Corp of Engineers has ever driven in rush hour traffic on this stretch of I-395 or even on major surface streets in the Seminary Road area?

Another huge area of concern over the BRAC move is a proposed access road through the adjacent Winkler Botanical Preserve.
Michael

Posted by Michael Bergin | Currently 2 Comments »
November 28th, 2010 Categories: Alexandria, Old Town, Real Estate News
1113 North Pitt Street, Unit 2B, in Old Town Alexandria at Canal Place is now available for showing.
This sunny one bedroom, one bath condominium is a corner unit with an eat in kitchen and wood burning fireplace.
A mere three stop lights from Washington, DC on the George Washington Parkway, Canal Place is a commuters delight.
Posted by Michael Bergin | Currently No Comments »