Archive for the 'Del Ray Business Association' Category
May 30th, 2012 Categories: Del Ray, Del Ray Business Association, Real Estate News
Chef Rock Harper, winner of Hell's Kitchen Season Three, will be the celebrity judge for the Taste of Del Ray on Sunday, June 3.  This follows last year's appearance by Top Chef Fan Favorite Carla Hall.
As an extra treat, the Friends of Del Ray will host a "space limited" reception for Chef Harper in the lobby of Virginia Commerce Bank at 2401 Mt. Vernon Avenue preceding the judging.
It's a great opportunity to have a glass of wine, support the Del Ray Business Association, and maybe even find out what Gordon Ramsey is really like!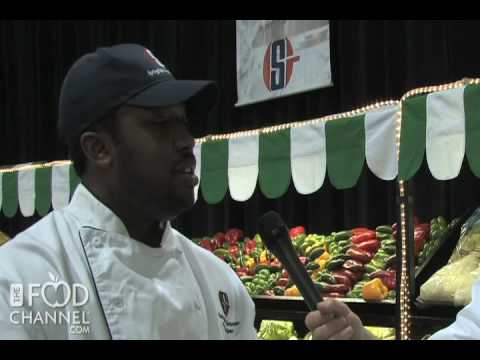 Tickets are $50 and space is limited to 25 people. The reception will take place from 12:30 to 1:30p, with Chef  Rock in attendance from 1 – 1:30pm.  Cameras and questions are welcome.
To take advantage of this special offering, contact Karen Johnson at [email protected]  Remember, space is VERY limited.
Something is always happening in Del Ray – call or text me at 703.927.4554 to find out how you can live here too.
Michael
Real Estate with Integrity
Posted by Michael Bergin | Currently 1 Comment »
June 5th, 2011 Categories: Del Ray Business Association, Things to Do
Top Chef Carla Hall was the guest judge today at the 2011 Taste of Del Ray sponsored by the Del Ray Business Association.

Families, couples, singles, babies in strollers and face painted toddlers all sampled delicious tidbits from fourteen local restaurants.  Think sliders, ice cream, bruschetta, mini-chulupas and more, much more.
Chef Hall also had her own tent with samples of her bite size sweets and savories.  Clearly a crowd favorite,  she posed for pictures, signed cookbooks and talked to everyone.
Another crowd favorite was Pork Barrel Barbeque, sporting a recent first place trophy for their barbecue chicken.  With the opening of their Del Ray flagship just weeks away, Brett and Heath have added something new to their product line - Que, Eau de Barbecue!
But maybe the biggest lines of all were at ACKC with their seemingly endless vats of Gifford's Ice Cream.   What's not to love?
But hey, let's get down to business.  Who were the winners of the 2011 Taste of Del Ray?
The People's Choice Awards went to:
Taquerio Poblano
Evening Star
Pork Barrel Barbeque

Chef Carla Hall's Judges Award went to:
Evening Star Cafe
Del Ray Pizzeria
Pork Barrel Barbeque.

Winners all in my book.
Congrats to the Del Ray Business Association for another great day in the neighborhood!

Michael

Posted by Michael Bergin | Currently No Comments »
February 27th, 2011 Categories: Del Ray, Del Ray Business Association, Real Estate News
Just a few short years ago when the Monroe Street Bridge was still a "dog leg" over the railroad tracks, Monroe Avenue was the main commercial thoroughfare to Mt. Vernon Avenue and beyond.
Now, with a gleaming new bridge but a rerouted Monroe Avenue, East Howell Avenue, a narrow residential street, has become a preferred route for trucks en route to Mt. Vernon Avenue.

Spurred by the site of a two tier car carrier making its way down East Howell Avenue to Alexandria Audi in January, neighbors Barbara King and Denise Maleug sent out a rallying cry for a recent Sunday afternoon gathering.
Thirty year residents, new comers, young parents, singles and couples all joined in one voice to protest:
illegal truck traffic
the lack of four way stop signs and cross walks
speeders and
the sheer volume of traffic now evident on the street.
On hand to listen and offer suggestions was Alexandria City Councilman Rob Krupika.   First and foremost on every one's mind was the illegal truck traffic on East Howell Avenue.
While completing the Monroe Street Bridge and moving full steam ahead with the development of Potomac Yard, the City of Alexandria failed to add any signage to Rt. 1 (North or South) indicating that NO THRU TRUCKS are allowed on East Howell Avenue despite a turn lane and a stop light.
Ooops!  There is a NO THRU TRUCKS sign located on East Howell Avenue – waist high and approximately 25 feet from the intersection and visible only after a truck has already made the turn from Rt. 1.

At the same time the City failed to add any signs on Rt. 1 (North or South) indicating that Monroe Avenue, despite its convoluted restructuring, is still the main commercial thoroughfare to Mt. Vernon Ave and beyond.
Tomorrow – what we are doing and how you can help.
Michael

Posted by Michael Bergin | Currently No Comments »
February 26th, 2010 Categories: Del Ray, Del Ray Business Association
Once a month or so the Del Ray Business Association publishes an increasingly long list of discounts, events, special offers, etc.  offered by the independent retailers who make their home in Alexandria's Del Ray Neighborhood.  And now we're passing it on to you.
It's a long list, with a little something for everyone, so get comfortable!
BUNGALOW HOMEWARES GALLERY – 1901A Mt. Vernon Avenue . Great new, green-friendly upholstered seating has arrived at Bungalow Homewares Gallery . Sofas, chairs, sectionals, ottomans, all constructed with sustainably harvested hardwood frames, low-impact glues and stains, part-soy foam, recycled steel sinuous springs, and over 200 fabrics, including a choice of fabrics from recycled fibers. And did we mention comfy? (703 299 8899)
EVENING STAR CAFÉ - 2000 Mt. Vernon Avenue — 2nd Annual Oyster Roast! Celebrate the last day of the Olympics with us Sunday, February 28, 12 PM to 6 PM. Escape the cabin fever and come join us to help celebrate the last day of the Olympics. We will be roasting oysters and grilling dogs. There will be wines from around the world as well as good old fashioned American beers and mulled cider. On top of all that will be some Wii tournaments (skiing anyone?) and we will close it all out with an outdoor viewing of the gold medal hockey game. The big top tent will be up and heaters galore, so bring the family and friends out for a day in the neighborhood!
ECLECTIC NATURE & GARDEN CENTER – 1503 Mt. Vernon Avenue , is pleased to announce the arrival of tons of new merchandise coming in the door every day including more and more furniture from new dealers! Spring is just around the corner and the pottery sale will be ending very soon, so take advantage of our sales while they last! We will also be giving a 'FREE' lecture on SPRING GARDEN PREP. at Potomac West Interiors on March 11, starting at 7:00pm. Please call to reserve your spot! 703.837.0500, Christy Beal, www.engiftandgarden.com
POTOMAC WEST ANTIQUES & NOT TOO SHABBY – 1515 & 1517 Mt. Vernon Avenue . Remember Aston Hardware? Its inventory is now at Potomac West Antiques and Not Too Shabby Consignments and Antiques, respectively. This week we are offering 10% off Aston Hardware's large collection of knobs, pulls, shutter dogs, escutcheons, casters, and other assorted hardware. Transform your tired furniture pieces by adding new classic hardware.
DEL RAY ARTISANS – Mark your calendars for: (1) Women in Art: Body of Work which opens Friday, March 5, with a reception from 7 – 10 pm; (2) Open Life Drawing / Gestures, Wednesday March 10, 11 am – 1 pm; (3) Open Life Drawing / Poses, Wednesday March 10, 2 pm – 5 pm; (4) Felting Accessories Workshop, Wednesday, March 10, 7 – 9 pm and Sunday, March 14, 1 – 4 pm; (5) Making New Accessories from Recycled Materials, Friday March 12, 6 – 10 pm. Check http://www.thedelrayartisans.org for pre-registration info, materials list, directions and fees.
STUDIO BODY LOGIC – AUTHENTIC PILATES: Two exciting workshops coming soon — this Saturday, February 27, from 1:30 to 3 pm, we'll focus on the Wunda Chair, a small but powerful piece of equipment that will leave you breathless ($40 per person; Strong beginning/intermediate students and above.) In March, we'll launch "Reformer on the Mat" – a workshop that takes exercises from the Reformer's beginning system and interprets them onto the mat. Designed for apparatus students and mat students currently at beginning/intermediate and above, but even advanced students will be challenged! Two dates at two locations: Saturday, March 6, from 1 – 2:15 pm in Arlington and Saturday, March 20, from 1:30 – 2:45 pm in Del Ray. $40 per person. To register, call 703.739.7601 or email [email protected] . Check us out at www.studiobodylogic.com and look for us on Facebook.
DO MORE WITH LES is Celebrating One Year! Help celebrate by booking for 4 hours, and paying for just 3. If you are looking for a personal assistant with pizzazz, look no further – Do More With LES is here to help YOU! Lauren Smith would love to help you and your clients. Simplifying lives one at a time, starting with yours. Call, e-mail or visit my website today. 703.963.4009 [email protected] www.domorewithles.com
Posted by Michael Bergin | Currently 4 Comments »