Archive for the 'Green Living' Category
July 7th, 2010 Categories: Green Living
The number one way to reduce your air conditioning and heating bills is to change the air filter regularly. 
Check your filter every month, especially during those months when it gets the heaviest use – like right now!
If the filter looks dirty after a month, change it.  At the very least, change the filter every 3 months.  Dirty filters slow down the air flow and make the system work harder to keep you cool or warm – wasting energy and costing you money.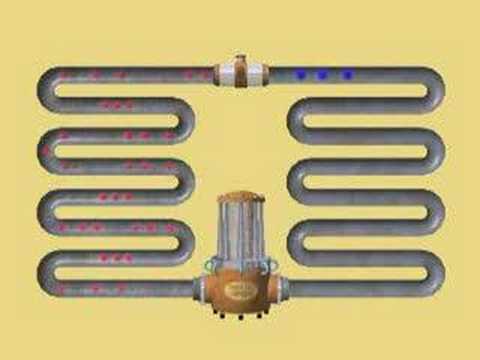 A clean filter will also prevent dust and dirt from building up in the system — leading to expensive maintenance and/or early system failure.
Really, it's that easy – reduce your air conditioning and heating bills by changing the filter regularly.
Michael
Posted by Michael Bergin | Currently No Comments »
June 22nd, 2010 Categories: Green Living
With sweltering temperatures already upon us, it's a great time to look at a few green energy tips for the month of June.
1) A simple way to minimize a swimming pool's environmental impact is to use a cover, even during the summer when the pool is not in use. A cover can reduce water evaporation by 90-95%, meaning less water is needed to fill the pool. A pool cover can also reduce the evaporation of cleaning chemicals like chlorine into greenhouse gases, and decrease your chemical use by up to 50%.
2) Make your summer meals energy friendly by prepping the grill by rubbing it with an onion instead of using a chemical spray; using propane, which is a fossil fuel but burns cleaner than wood or charcoal; having guests bring potluck meals in reusable Tupperware containers; offering beverages in larger containers with reusable cups instead of filling your trash with a lot of empty cans, bottles and plastic cups; and providing guests with recycled-plastic durable dishware and reusable bamboo cutlery.
3) Install a clothesline and start drying your laundry outdoors if you haven't done so. It is better for the environment and conserves energy; many households who air dry shave more than $25 a month from their electricity bill. Clothes and linens smell better when dried outdoors than in the dryer, and you don't have to worry about racing to get the clothes out of the dryer before they wrinkle. Clothes that are air-dried also last longer.
4) Using the correct mowing technique can decrease your lawn's water usage. Use a mulch blade and leave grass clipping on the lawn, to keep moisture in and provide nitrogen. Set your cutting depth to leave 2 and-a-half to 3 inches of grass. Taller grass will protect the stems from strong sunlight and ensure a stronger root system. Less water will evaporate, meaning it's less you have to water your lawn.
You may not be able to do all of these things but even one of them can help the environment and help you cut back your energy costs.
Don't have a lawn to mow or a place to dry your clothes?  Call me at 703.927.4554 and let's change that right away.
Michael
Posted by Michael Bergin | Currently 1 Comment »
April 29th, 2010 Categories: Green Living
The other night on the Beverley Hills list serv, someone wrote and asked how to get rid of slugs – you know, those pesky, slimy creatures that love to eat holes in anything with a broad green leaf.
Our backyard is full of hostas and we learned early on to take preventive measures. 
For those of you who are new to gardening however or are just beginning to deal with the issue, we've done a bit of research.  Here are a few things to keep in mind*:

Slugs invade the garden when seedlings or new growth are the most vulnerable.
Slugs are hermaphrodites: they all have male and female reproductive systems and can mate with themselves. Yuck!
They can stretch to 20 times their normal length to get at food.
Slug eggs are in the soil just about everywhere. It takes moisture to allow them to hatch.
There are at least 40 varieties of slugs.
Slugs generally steer clear of: Artemisias, daylilies, Fresia, Lemon balm, Red cabbage, alyssum, Azaleas, Daffodils, Grapes, Mint, Lungwort, Rosemary, Red oak leaf lettuce, Basil, Evergreens, Corn, Fennel, Cosmos, Chard, Foxglove, Hibiscus, Ivy Swedish in particular, parsley, sages, tansy, pumpkin, sunflowers, chicory and endive.
Some predators of slugs include: ground beetles, particularly carabid beetles, turtles, toads, frogs, lizards, rove beetles, salamanders, lightening bug larvae, garter snakes, and especially most birds. The appeal factor to all these creatures is the fact that slugs are pure protein. Yummy.

(***Thanks to FamilyMatters.tv for this)
But our favorite tips come from organic gardener Barbara Pleasant:
Posted by Michael Bergin | Currently 1 Comment »
April 20th, 2010 Categories: Green Living
Going green doesn't have to be hard but it does take a 'reordering' of thought.  Here are six easy tips for going green by cutting back on water usage:
1. Turn the water off when you are brushing your teeth and save 25 gallons a month.
2. Wash your fruits and vegetables in a pan of water instead of running water from the tap, then reuse the water for indoor or outdoor plants.

3. Reuse bath water on plants (this is a favorite of my mother-in-law, something about the soapy residue keeping pesky insects away).

4. Keep a pitcher of water in the refrigerator instead of running the tap to get cold water (get a Brita and that way you get cold and filtered at the same time).
5. Limit the amount of bottled water you consume, because it takes 3 liters of water to produce 1 liter of bottled water.  Recycle your bottles using the filtered water per #4, we do it all the time.

6. If your dishwasher is new, cut back on rinsing. Newer models clean more thoroughly than older ones. I've also heard that not rinsing makes the dishwasher work better?!?!?!
Told you it didn't have to be hard -

Michael
Posted by Michael Bergin | Currently No Comments »
April 21st, 2009 Categories: Alexandria, Green Living
Today is Earth Day and I thought I would do a quick recap of how we have celebrated "green" in the past few months.  Click on any of these stories for a an idea or two  . . .
And if you 're in the area, stop by the Coldwell Banker office at 310 King St. for free goodies!  In the meantime, I'll be passing out over 50 reusable bags on my block in Del Ray.
Michael
Posted by Michael Bergin | Currently No Comments »
March 31st, 2009 Categories: Alexandria, Green Living
Wondering what to do with all that "stuff" that accumulated over the winter?  Eager to clean and purge but not up for a yard sale?  Then the City of Alexandria is ready to help you with Spring Clean Up  '09.  An added bonus this year is metal and electronics recycling.
Starting Saturday, April 4 and continuing through Saturday, May 2nd, the City of Alexandria will provide pick up service to all city residents.
The rules:
Place materials at the CURB (no alley pick-up) before 7:00am on the assigned pick-up day.
Stoves, refrigerators, washers, dryers, hot water heaters, freezers, and dish washers require a $20 per item collection fee.
Tie brush in bundles no more than 4 feet long and not more than 75lbs.
Items must be placed in 4 distinct piles:
Reusable items – tables, chairs, household furniture or any other reusable item
Metal items – pots, pans, toasters, wire hangers
Electronics – stereos, computers, televisions
Refuse
UNACCEPTABLE ITEMS:
Concrete
Hazardous waste
Unbundled brush
Loose yard waste
Building materials
Click here for more information about recycling, hazardous waste and a MAP of when Spring Clean Up 09 is coming to you.  And click here for pictures from last year.
Posted by Michael Bergin | Currently 2 Comments »
March 29th, 2009 Categories: Green Living
The Department of Energy has produced a great booklet called "Energy Savers, Tips on Saving Energy and Money at Home."
Included in the booklet are tips on:
Insulation and Sealing Air Leaks
Heating and Cooling
Water Heating
Window
Lighting
Appliances
There is also a major appliance shopping guide and as well as information on home office electronics, car maintenance and renewable energy.  Want to know more about saving money and green living?  Click here for the full booklet.
Thanks for stopping by,
Michael
Posted by Michael Bergin | Currently No Comments »
January 9th, 2009 Categories: Green Living
Living a greener lifestyle in Northern Virginia – or anywhere for that matter – doesn't have to be complicated or expensive.  In fact, these 3 tips for green living all have the potential to save you money if you are willing to do your homework.
Phantom Power
The U.S. Department of Energy estimates that, in the average home,  75% of the electricity that powers electronic devices (televisions, computers and kitchen appliances) is used when the devices are not even turned on.  This is because many electronic devices  still draw "phantom" power when turned off.  This can be remedied by unplugging appliances when not in use, or more easily, connecting appliances to a power strip that can be turned off with the flick of a switch.  An even handier, and perhaps more feasible solution is to purchase a "smart" power strip that automatically turns off devices when not in use.
Rechargeable batteries
For most devices, it is worth considering rechargeable batteries instead of disposable batteries. While the initial cost of rechargeable batteries is usually higher, their use can bring savings over time. Batteries use very little electricity to charge, but be sure to unplug the charger when not in use or after the batteries have finished charging. We just switched to rechargeable batteries for our digital camera and portable listening devices and have already seen savings.
Home Computers
Home computers aren't enormous energy hogs, but there are a few misconceptions about them that lead to increased energy usage. One is the belief that computers will have a longer life if left on at all times. This isn't completely true, as some hardware wears out faster when the computer is left on. Another misconception is that screensavers reduce the amount of energy used by monitors. This isn't the case, as the screensaver requires energy for your computer to run it. Putting a computer into sleep mode will save more energy all-around and is a way to compromise between leaving the computer on or turning it off. Computers that are used frequently throughout the day will benefit more from sleep mode and use less power than if simply left on; computers used less often are best powered down to save on energy and incur less wear.
What about you?  Any New Year's resolutions for a greener lifestyle in 2009?
Michael
Posted by Michael Bergin | Currently 2 Comments »
January 1st, 2009 Categories: Green Living
The average U.S. household paid $2,300 in energy costs last year with heating making up nearly half the bill for homes in the Washington area.  Try these easy 9 easy tips for saving money on your energy bills – all compliments of Megan Voelkel at the Washington Post:
Adjust temperatures
Replace or clean furnace filters
Pay attention to your windows
Use CFL's – these take some getting used to but they are well worth it.
Follow the Energy Star
Insulate, insulate, insulate
Get rid of drafts
Take advantage of tax credits
Stop wasting energy
For more about each of these tips, click here.
Michael
Posted by Michael Bergin | Currently No Comments »
June 26th, 2008 Categories: Alexandria, Green Living
I just wanted to give a quick shout out to Whole Foods on Duke Street in Alexandria for FULLY embracing the idea of reusable grocery bags.
Some of you will remember my article about how hard I was trying with reusable grocery bags – although my biggest problem was just remembering to take them in the store?
Well, last night I dashed over to WF to get a big healthy bag of fresh salad greens and some of my favorite protein bars and – gold star for me – I grabbed a reusable grocery bag out of the trunk.
Shopping done I moved towards the check out lines, all of which were long since it was near closing.
Undaunted, I took my place and whipped out my cloth shopping bag. Minutes later, after receving my 5 cent rebate and feeling proudly green, I picked up my bag – my Giant Food Store bag – and walked out.
My point? The clerk at check out could have called my attention to the fact that I had grabbed (mistakenly) a Giant bag instead of a Whole Foods bag and/or refused me the recycling rebate. Instead he fully embraced the notion of customer service and recycling.
It was more important to serve his customer quickly and efficiently and rejoice in the use of a cloth bag than to be "right." Good for him, good for the environment, good for Whole Foods.
Virginia
Thanks to my spouse and managing partner for this update on her continuing struggle to "live green."
P.S. What kind of customer service is your real estate agent giving you?
Posted by Michael Bergin | Currently 2 Comments »