Archive for the 'Things to Do' Category
April 23rd, 2011 Categories: Alexandria, Old Town, Things to Do
Following a week of cold, wet weather, Easter Sunday dawned clear and warm at Historic Christ Church in Old Town Alexandria.
Over a 1,000 visitors and congregation members attended four services beginning with the 7:30am.
Michael

Posted by Michael Bergin | Currently No Comments »
April 12th, 2011 Categories: Real Estate News, Things to Do
Whether you are getting your house ready to go on the market or just indulging in annual gardening rituals, now is the time to check out local plant sales in Alexandria and Northern Virginia.
Nurseries are wonderful but these smaller plant sales offer interesting varieties and specialties, especially with native plants.  It's also a great chance for one on one advice about planting and cultivation and where to find other one-of-a-kind materials.
So get your calendar out, the next few Saturdays are going to be packed -
American Horticultural Society at River Farm
Friday, April 15, 9am – 6pm
Saturday, April 16, 9am – 6pm
Plants, garden supplies, garden art and related products
Friends of Carlyle House
Saturday, April 16, 8am – 4pm
Herbs, baked goods and gently used cookbooks

National Arboretum
Friday, April 29, 1pm – 4pm
Saturday, April 30, 9am – 4pm
Specimen plants, white flower plants and Zone 7b plants

Parkfairfax
Saturday, April 30, 9am -2pm
Native Plants
Happy digging,
Michael
Posted by Michael Bergin | Currently No Comments »
April 11th, 2011 Categories: Old Town, Real Estate News, Things to Do
The 2011 Alexandria House and Garden Tour is this Saturday, April 16th from 10:00am to 4:00pm.
Historic Garden Week is the oldest and largest statewide house and garden tour event in the nation.
Sponsored by The Garden Club of Virginia, the tours benefit the restoration of important historic grounds and gardens throughout the state.
Each of the three dozen events offers an engaging variety of five to six local houses and gardens, most open to the public for the first time for Garden Week.
Here is Alexandria, six private homes will be open to the public.  In addition, the Lee-Fendall House Museum and Garden; the Carlye House Historic Park; Mt. Vernon; the American Horticultural Society at River Farm; Woodlawn; and Gunston Hall Plantation are included in the full ticket price.
619 South Lee Street
Vowell-Snowden House
The original structure was built around 1800 by Thomas Vowell, Jr. and later purchased by Edward Snowden, owner and editor of the Alexandria Gazette and Mayor of Alexandria.  Supreme Court Justice Hugo Black took ownership of the house in 1979 and lived there until his death.  Features include expansive grounds with a two bedroom guest house, tennis courts, pool and a boxwood trimmed rose garden with a central fountain.  Mr. and Mrs. Andrew Saltonstall, owners.
420 South Fairfax Street
Built in 1856 and purchased by the current owners in 1980, this charming clapboard house combines European, American and Asian touches.  The original working fireplace and and heart of pine floors are a perfect backdrop to a spiral staircase and a collection of European maps and prints.  A Japanese inspired garden still leaves room for vegetables and herbs.  Mr. and Mrs. Jack Clopper, owners.
605 South Lee Street
When the Niepold family bought this 1880 structure in 1934 it was still without indoor plumbing and electricity.  Extensive renovations over a 40 year period included the addition of a den and kitchen and a beautiful fan light over the front door.  The current occupant is also an artist who maintains a studio on the third floor.  Siberian elms and perennial begonias flourish in the sun filled backyard.  Mrs. William S. Hickey, owner.
210 Wilkes Street
Built in the early 1800′s, the heirs of the original owners were were John W. and Julia Thompson Burke who repurchased the home in 1852 for their maiden daughter, Miss Fanny Burke.  When the house was sold in 1945 it changed from a Victorian to a Federal style exterior.  The interior features trompe loeil paintings, a Frederick Remington painting and Louis Comfort Tiffany gold art glass vases.  Mrs. Russell Murray, owner.
518 Duke Street
This Italian Renaissance style house was built in 1852 and is "characterized by a composite cornice and bracketing of the doorway, window architraves and cornice."  Interior designer Craig Miller of Miller McCann International was instrumental in creating a comfortable house with historic significance.  An intimate garden and brick courtyard complete this impeccable home.  Mrs. Mary B. O'Conner, owner.

217 North Royal
Built by master carpenter James McGuire in 1796, he occupied the house until his death at the age of 76.  Subsequent owners used the Egyptian Revival style to update the house.  The current residents began renovations in 1997, keeping the front facade but returning the interior to the 1790′s.    The garden features cast iron fern benches, bronze statues and English boxwoods.  Mrs. Nathaniel D. Chapman II, owner.
What an incredible way to see the homes and gardens that make Old Town Alexandria so very special.
Michael

Posted by Michael Bergin | Currently 2 Comments »
April 8th, 2011 Categories: Real Estate News, Things to Do
We are on the precipice – will the government shut down or not?  It's 10:20pm on Friday night and for the life of me I don't know what the news will be in the morning.  Scary isn't it?
Especially if you are one of the thousands in town for the Cherry Blossom Festival or if you are in your annual role as  tour guide for family and friends.  What to do with no parade and closed museums?
Never fear, there are at least 10 Things To Do If the Government Shuts Down.  In the interest of full disclosure, I fully admit to this not being original thought and gratefully thank the Washington Post for these clever alternatives:
No – U.S. Botanic Garden
Yes -  Dunbarton Oaks
No – The Library of Congress
Yes – Washington National Cathedral
No – The National Gallery of Art
Yes – National Museum of Women in the Arts

No – The National Gallery's Sculpture Garden
Yes – Oak Hill Cemetery
No – The White House
Yes - The Woodrow Wilson House
No – The National Museum of the American Indian
Yes – Eastern Market
No – The National Zoo
Yes – East Potomac Park to Haines Point
No – The Capitol
Yes – The National Shrine of the Immaculate Conception
No – The National Museum of American History
Yes – The Newseum
And for your Abe Lincoln fix, visit the site where President Lincoln wrote the Emancipation Proclamation.  I would also throw in one of  our favorite spots – Hillwood.

And that my friends is a fine list of alternative things to do if the government shuts down – or not!

Michael
Posted by Michael Bergin | Currently No Comments »
March 26th, 2011 Categories: Real Estate News, Things to Do
Today, just in time for the 2011 Cherry Blossom Festival and the hordes of spring visitors, the Washington Post gave a big thumb's up to these food trucks:

Bada Bing Food Truck - Big, juicy Italian sandwiches.  twitter.com/badabingdc

Curbside Cupcakes - Rotating flavors like eggnog and peanut butter plus classic favorites.  twitter.com/curbsidecupcake
DC Empanadas – Be on the lookout for the brie, fresh fig and Marcona almond combination.  twitter.com/DCEmpanadas
Eat Wonky - French fries topped with gravy and cheese curds and hot dogs.  twitter.com/eatwonky

Fojol Brothers of Merlindia – Indian specialties with vegetarian options.  twitter.com/fojolbros

Red Hook Lobster Truck – Expensive and worth every $15 for an authentic lobster roll.  twitter.com/LobstertruckDC
Sauca – Pork banh mi, fish tacos, beef shawarma and more, all wrapped up.  twitter.com/wheresauca
Takorean - Korean tacos from the West Coast.  twitter.com/TaKorean
Ummmmmmmmmm, where shall I stop tomorrow?
Michael

Posted by Michael Bergin | Currently 2 Comments »
March 25th, 2011 Categories: Real Estate News, Things to Do
Today, despite unseasonably cold weather and with snow in the forecast, the 2011 Cherry Blossom Festival opens in Washington, DC.
Running through April 10, the 2011 festival will draw well over 1,000,000 visitors to the greater Washington, DC area, including Alexandria.  The return of the iconic cherry blossom has particular potency this year after the disasters that shook Japan earlier this month.
A full, two week schedule of activities will feature everything from sake tasting to kite flying to a parade to the largest Japanese Street Festival in the United States.
First Lady Helen Heren Taft planted the first two cherry trees on March 27, 1912.  That same year the United States sent flowering dogwoods to Japan as a gift and did so again in 1965.  During the duration of World War II the Japanese trees were referred to as "Oriental" trees and the festival was suspended between 1942 and 1946.
A second gift of 3,800 trees was accepted by then First Lady, Lady B. Johnson whose campaign to beautify America began here in the nation's capital with thousands and thousands of flowering bulbs planted in public areas.
Did you know?
Beavers gnawed down 4 trees in 1999 creating a scandal on par with Watergate.  The beavers were subsequently trapped and 'relocated' but with relatives still in the area, Park Police are ever vigilant.
A 357 year old stone lantern, one of a pair from a temple in Tokyo, has officially opened the festival every year since its arrival in 1954.
When the site for the Jefferson Memorial was picked in 1937, some 1,000 cherry trees needed to be removed.  The "Cherry Tree Rebellion" ensued with a group of women chaining themselves to the trees.  President Franklin Roosevelt did not back down – although he did order the trees removed in the middle of the night to avoid further confrontation.
A single tree of unknown origin or pedigree is the 'indicator tree' used by the National Park Service to predict blooms because it blooms approximately one week ahead of the other thousands of trees.
Or a parade?  This year's parade on April 9 will feature actor Atticus Shaffer as Grand Marshall.
Enjoy!  The Cherry Blossom Festival is one of the great harbingers of spring (we hope) and one of the great delights of living in this area.
Michael
Posted by Michael Bergin | Currently 1 Comment »
March 10th, 2011 Categories: Arlandria, Real Estate News, Things to Do
Our friend Kevin Beekman at the Arlandrian has announced a new and improved Four Mile Run Farmers and Artisans Market (4MRMarket) for 2011.
Opening for the season on Sunday, April 2, the market promises to be "stronger, more attractive to customers and more inclusive for everyone in the community."
This is what we can look forward to:
4MRMarket has been certified to become the first farmers market in Alexandria to accepting SNAP/EBT (food stamps) for qualified purchases. The market has also partnered with INOVA Alexandria Hospital and the Alexandria Health Department for all participants to receive double dollars to spend at the market. This effectively makes the market half as expensive for participants in the program! Produce, seafood, meat, dairy, and breads, and most items for home consumption are the basic eligible items, but you can find a full list by clicking here.
The 4MR Community Building (aka the old Duron Paint store) will be renovated for community use by early in the season, providing bathrooms, market storage, and a much better aesthetic to the market!
The entire site, from the community building northward to Four Mile Run, will be completely remade into a hardscaped, landscaped, and colorful park, starting this summer!

For more on what is happening with the Four Mile Run Market, click here.
And if you are interested in property in this fast developing area, give me a call at 703.927.4554.
Michael
Related stories:
Posted by Michael Bergin | Currently No Comments »
March 3rd, 2011 Categories: Old Town, Things to Do
Are you ready for a bit of the "wearing of the green?"
This Saturday, March 5, marks the 30th Annual ST. PATRICK'S DAY PARADE in Alexandria, VA.
Sponsored by the "Ballyshaners", which means Old Towners in Gaelic, the parade will feature marching bands, Republicans, Democrats, Irish Wolfhounds, Irish Setters, Irish Terriers, Irish Whiskey (oops!) and the all important KENA Shriners – you know, those large men in the small cars.
The line up of festivities looks something like this:
10:00 a.m. – Invitational Classic Car Show. North Pitt Street between King & Cameron

10:30 a.m. – Fun Dog Show. Market Square

12:30 to 2:30 p.m. Parade from West & King Streets to Fairfax and King Streets in Old Town


You're not Irish?  Not to worry, you will be on Saturday!
Erin go bragh,
Michael O'Berrigan
Posted by Michael Bergin | Currently 1 Comment »
February 22nd, 2011 Categories: Real Estate News, Things to Do
In an announcement that went out on our local list serv tonight, the Alexandria Chamber of Commerce is launching a local buying program similar to Groupon.
Called "Try It Local", the program offers savings of 40-90% from retailers, service providers, and restaurants who are members of the Alexandria Chamber of Commerce.
An email notification goes out each morning with that day's special offer (s) and you have until the end of the day to purchase the coupon.  The length of time available to use the coupon depends on the business offering the discount.
While still in it's infancy, "Try It Local" was developed specifically for Chamber of Commerce affiliates and is currently available in 26 cities – a nice benefit for travelers who sign up.
Some of the other Chamber cities on the roster include Cape Cod (!!!), Amelia Island, Baltimore, Las Vegas, San Diego and San Francisco.
We're signed up and looking forward to our first coupon.
We'll keep you posted on how we like it but we think it's a great way to support Alexandria's local businesses.

Michael
Posted by Michael Bergin | Currently 1 Comment »
February 17th, 2011 Categories: Old Town, Things to Do
President's Day Weekend in Alexandria promises a full range of activities from parades to an ice melting contest to free museum tours.
Starting on Sunday, Gadsby's Tavern Museum will kick off with an Ice Melt Contest in an effort to preserve its historic ice well.  The underground ice well will be stocked with several tons of ice and participants are invited to guess how long it will take to melt completely.

The event begins at 2 p.m., as a block of ice is hauled from the Alexandria waterfront at the end of Cameron Street to the ice well at the corner of North Royal and Cameron streets.
Once the ice block reaches the ice well around 2:30 p.m., visitors will be able to view the stocked ice well, purchase contest tickets, learn about the importance of ice in the 18th century and talk with George Washington outside the very tavern where he dined and danced.

On Monday, February 21st, the "largest parade celebrating George Washington's birthday in the USA" kicks off at 1:00pm in Old Town Alexandria.  Last year's parade was canceled because of a major snow storm so the mild weather predicted for the next few days will be a welcome relief.
Throughout President's Day, several Historic Alexandria sites will have Open Houses offering free admission. Those sites include:
And less you think it was all work and no play for our founding fathers, check out this video about Washington's original rye whiskey recipe.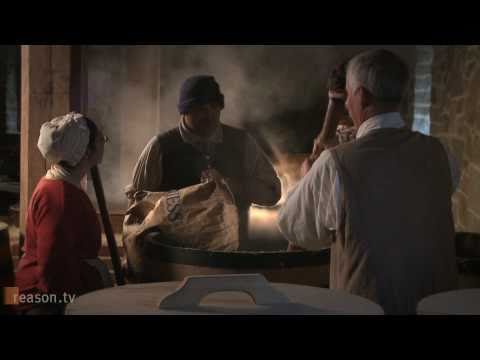 Michael
Posted by Michael Bergin | Currently 2 Comments »