Del Ray
Zip Code 22301
Del Ray's proudly touted slogan is  "Where Main Street Still Exists."  In this case, Main Street is actually Mt. Vernon Avenue where dozens of independent businesses and restaurants provide a wide range of services.
Del Ray is known for it's generous community spirit, an incredibly active Citizens Association and Business Association, and for it's enduring walkability.
Once known as the Town of Potomac, Del Ray was annexed by the City of Alexandria in 1930.  The occasion was commemorated January 1, 1930 with a "gala program of music and dance" at the fire station.   In 2011 Del Ray was named as one of the top Ten Revitalized Neighborhoods according to MSN.

Zip Code 22301 also includes the neighborhoods of Rosemont and Temple Hills.

---
March 7th, 2014 Categories: Del Ray
Adrian Higgins is a long time Washington area gardening guru. He also writes a weekly column in the Washington Post's Local Living section where each week he offers a "tip" to correspond to a year round schedule of garden and yard maintenance.
I couldn't help but chuckle to myself when I read Thursday's "Tip of the Week" – especially after I looked out our backdoor:
"Last year's growth of lirope or lily turf should be removed now before the season's new leaves emerge. Hedge shears are the best tool for this job. The clippings can be added to the compost pile, but discard old leaves that have been damaged by de-icing salt."
Personally I am going to wait until the snow is GONE and then pull out my hedge trimmer.  As for the damaged leaves, well, they just may end up in the compost too.
See you in the garden,
Michael
Posted by Michael Bergin | Currently No Comments »
March 5th, 2014 Categories: Del Ray
Del Ray Pizzeria, at 2214 Mt Vernon, is the 2014 winner of the Heart of Del Ray award.  Sponsored by the Del Ray Business Association (DRBA), the award is a way to recognize members of the Del Ray business community.
While the award may be given by the DRBA, it is the citizens of Del Ray who do the voting.  Anyone is free to nominate a business but the list is eventually culled to 5 formal nominees. 
The voting process then goes live via social media and a very active race to the finish ensues.  This year over 800 votes were cast with Del Ray Pizzeria taking home the prize and the right to wear their heart on their sleeve – or the window as the case may be.
Previous winners include A Show of Hands, the Greener Cleaner, and the Neighborhood Pharmacy.
See you in the neighborhood,
Michael
Posted by Michael Bergin | Currently No Comments »
June 13th, 2012 Categories: Del Ray, Wordless Wednesday
The Del Ray Citizens Association (DRCA) has elected a new executive board for 2012-2013.  Heading the slate is Bill Hendrickson who will serve as president.
Other officers include:
David From, 1st Vice President


Jay Nestlerode, 2nd Vice President

Rebecca Gordon, 3rd Vice President

Pat Miller, Treasurer

Jen Atklins, Secretary

and Sherrie Good, Sergeant-at-Arms.
The new board has a wide range of expertise in business, the arts, transportation, parks, development and the environment.  Most importantly however, they all care deeply about the Del Ray community.
One topic certain to be a focus of the new board is the significant increase of traffic in Del Ray and the illegal use of East Howell Avenue for trucks en route to businesses on Mt. Vernon Avenue.
Hats off to these new board members for stepping forward to work on our behalf.
Michael
Real Estate with Integrity

Posted by Michael Bergin | Currently 1 Comment »
May 30th, 2012 Categories: Del Ray, Del Ray Business Association, Real Estate News
Chef Rock Harper, winner of Hell's Kitchen Season Three, will be the celebrity judge for the Taste of Del Ray on Sunday, June 3.  This follows last year's appearance by Top Chef Fan Favorite Carla Hall.
As an extra treat, the Friends of Del Ray will host a "space limited" reception for Chef Harper in the lobby of Virginia Commerce Bank at 2401 Mt. Vernon Avenue preceding the judging.
It's a great opportunity to have a glass of wine, support the Del Ray Business Association, and maybe even find out what Gordon Ramsey is really like!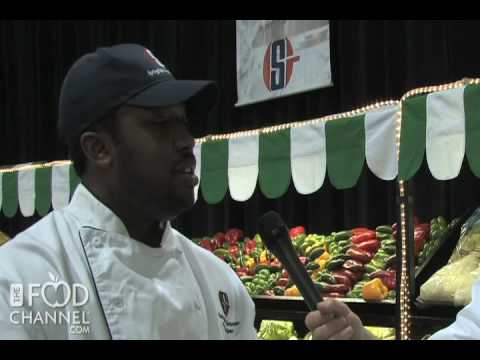 Tickets are $50 and space is limited to 25 people. The reception will take place from 12:30 to 1:30p, with Chef  Rock in attendance from 1 – 1:30pm.  Cameras and questions are welcome.
To take advantage of this special offering, contact Karen Johnson at [email protected]  Remember, space is VERY limited.
Something is always happening in Del Ray – call or text me at 703.927.4554 to find out how you can live here too.
Michael
Real Estate with Integrity
Posted by Michael Bergin | Currently 1 Comment »
September 29th, 2011 Categories: Del Ray, Real Estate News
Join us this Saturday, Oct. 1 for Arts on the Avenue in Del Ray – THE premier arts festival in Northern Virginia – with over 300 vendors.
Stroll Del Ray's Mt. Vernon Avenue from 10:00 am to 6:00pm for a full day of activities.  In addition to the arts vendors, look for scarecrow making, pumpkin painting, puppet shows, dance performances and a wide range of music.
And did we mention the food court or the crab cake sandwiches?
Come on out and join us, it's going to be a great day!
Michael

Posted by Michael Bergin | Currently No Comments »
July 28th, 2011 Categories: Del Ray
National Night Out 2011 is just around the corner and in our part of Del Ray, it's Be There or Be Square.

National Night Out was originally created to combat drug and crime prevention and to foster better citizen/police relationships.
All those things are still true – and still the mission of the organization – but in our neighborhood it has developed into a much anticipated community event.  The entire block takes part – from getting city permits to block off the street, to pitching tents against the heat, pulling out coolers and cookers, setting up tables and chairs and, perhaps the most important part, contributing to a giant pot luck dinner.
In fact, our block is so well known for it's good food – particularly the fried fish – that we routinely get visits from the mayor, the mounted police, the entire squadron of motorcycle police, the special forces unit, the sheriff, etc. etc.
It's a great opportunity to meet individual members of the force and to thank them for all they do.  In turn, the kids pat the horses, sit on the motorcycles and climb all over the armored vehicles.
It's not hard to get started and the National Night Out site has lots of great ideas.  If you're new to your area it's also just the best way to meet your neighbors.

For more on what a National Night Out Event can look like, here are some stories from past years:
My guess is that one big topic of conversation this year is going to be the local election and the increased traffic on East Howell.
You don't want to miss a thing, I promise!

Michael

Posted by Michael Bergin | Currently No Comments »
June 28th, 2011 Categories: Del Ray
Last year we proudly purchased three tomato plants, pots, stakes, soil, etc.   Each morning we stepped eagerly out the back door to check on the progress of our plants.
At first everything was fine – they grew rapidly, blossoms formed and then the first tiny tomatoes appeared.  The tomatoes got bigger and the anticipation almost unbearable – until one morning there were no tomatoes – at all.  SQUIRRELS!!!!!!!!!
Enter neighbors Michael and Brian whose houses, one on Windsor and one on Custis, share a garden.  They too were plagued by tomato eating renegade squirrels.  But rather than simply give into the inevitable, they took action.  Call it the new urban gardening if you will, but at least these two Del Ray residents will have home grown tomatoes this summer.
The first, not very serious plan, was to fence in the entire garden plot but with plenty of room for Winston, a squirrel loving Jack Russell Terrier.  That idea abandoned, Michael and Brian came up with a squirrel proof cage for their tomatoes.  Literally.  It's amazing what you can do with chicken wire and two by fours.

Taking it one step further, these urban gardeners planted so that vertical plants, like green beans, would grow on the outside of the cage, creating a more appealing aesthetic for the neighborhood.
Add in zucchini, cauliflower, broccoli, purple cabbage and cucumbers and these two families have their own personal Farmer's Market.
Ummmmmm, wonder if Michael and Brian hire out?
Looking for your own garden plot in Del Ray.  Give me a call at 703.927.4554 and let's go house hunting.
Michael
Posted by Michael Bergin | Currently 3 Comments »
May 1st, 2011 Categories: Del Ray, Real Estate News
This was the scene at the Duncan Library's Annual Spring Sale this past Saturday in Del Ray.
There really was something for everyone - books of every shape and size, face painting, a bounce house and and even a spot for learning how to make a book.
Don't you wish YOU lived in Del Ray?  Give me a call at 703.927.4554 and we'll make it happen.
Michael
Posted by Michael Bergin | Currently No Comments »
April 19th, 2011 Categories: Del Ray, Market Reports, Real Estate News
Today we are looking at the March 2011 Housing Prices in Zip Code 22310 which encompasses the Alexandria neighborhoods of Del Ray, Rosemont and Temple Hills.

We're also taking a five year overview to get a larger sense of what the market is doing in our area.
As always, each month's sales are dependent on multiple factors including the amount of inventory, the number of priced-to-sell homes, the number of qualifying buyers, etc. etc.
Zip Code 22301

No. of Homes Sold

Average  List

Price

Average Sold Price

Days on Market

Mar 2011

17

$674,800

$646,665

69

Mar 2010

4

$628,475

$614,150

33

Mar 2009

14

$719,336

$710,457

46

Mar 2008

8

$607,825

$686,363

128

Mar 2007

25

$683,744

$664,796

60

For more details and a free comparative analysis of your property, give me a call at 703.927.4554.

Michael
Posted by Michael Bergin | Currently No Comments »
March 24th, 2011 Categories: Arlandria, Del Ray, Real Estate News
Marino's Pizza and Subs on Rt. 1, a long time Lynhaven*** fixture, has received a special use permit from the city planning commission.
Marino's, with it's distinctive purple paint and deck area adorned with fake palm trees, is planning a 2,547 square foot addition that will include a second restaurant.  Owner Ather Subzwari will add 44 seats for a second level, cafeteria style dining room.
The request included a modification of the rear setback from 25 to 6 feet and the installation of new landscaping.  Subzwari is also working with Inturias Auto to use their lot for night time parking.
There are no current plans for alcohol sales but Marino's will continue to be open till 1:00am on weeknights and 2:00am on Friday and Saturday.
The special use permit was granted despite a recommendation of denial by the Del Ray Citizens Association (DRCA).  The DRCA noted their disapproval was more about the lack of long term planning for Route 1 development than about Marino's. (Marino's sits directly across the street from the Target at Potomac Yard
At the same time, Marino's is positioning itself for the development of Potomac Yard and the proposed Metro station.  Drawings show the new Metro station located behind the Target and Marino's is directly across the street from Target.

Smart moves for all concerned.
Michael
*** Lynhaven is a neighborhood adjacent to Del Ray and Arlandria with Route 1 as one of its borders.
Posted by Michael Bergin | Currently 1 Comment »