Old Town Alexandria
Zip Code 22314
Offering 250-year-old brick-paved streets lined with 18th-and 19th-century architecture, Old Town Alexandria quintessential urban living.
Laid out in 1749, Old Town Alexandria was home to George Washington and one of the earliest and most important seaports of the colonial era.  Today it teems with boutique shopping, acclaimed dining, and vibrant nightlife.
Old Town was recently names as one of 12 "Distinctive Destinations" for 2011 by the National Trust for Historic Preservation.
---
July 8th, 2011 Categories: Alexandria, Old Town, Things to Do
In a long standing tradition, the City of Alexandria will celebrate it's own birthday (262 years) and the nation's birthday (235 years) this Saturday, June 9th.
We're not exactly sure how this post Fourth of July celebration got started (or why) but it's been going on for as long as we have lived in the area,
So, if you missed the Fourth or just didn't want to fight the crowds downtown, make your way to Oronoco Bay Park along Alexandria's waterfront between 4:00 and 10:00pm.  The celebration includes children's activities, community exhibits and birthday cake.
The highlight of the evening is a concert by the Alexandria Symphony Orchestra, topped off with Tchaikovsky's "1812 Overture"  and fireworks. "Cannon support" will be supplied by the United States Marine Corps, Basic Training School, Quantico, VA at 9:30 p.m.
In the event of inclement weather, fireworks only will be rescheduled for Sunday, July 10 at 9:30 p.m.
Oronoco Bay Park has lawn seating, and visitors are encouraged to bring chairs and blankets. Ice cream, hot dogs, hamburgers, shaved ice and kettle corn will be available for purchase or bring your own.  (No is grilling allowed however.)
Visitors to the historic district are encouraged bike, walk or take the Metrorail Yellow or Blue lines to the King Street Station and take King Street Trolley to the unit block of King St., a short walk to Oronoco Bay Park. The King Street Trolley will operate until midnight for individuals wishing to return to the King Street Metro following the celebration.
Michael

Posted by Michael Bergin | Currently No Comments »
April 23rd, 2011 Categories: Alexandria, Old Town, Things to Do
Following a week of cold, wet weather, Easter Sunday dawned clear and warm at Historic Christ Church in Old Town Alexandria.
Over a 1,000 visitors and congregation members attended four services beginning with the 7:30am.
Michael

Posted by Michael Bergin | Currently No Comments »
April 21st, 2011 Categories: Market Reports, Old Town, Potomac Yard/Greens
Today we are looking at the March 2011 Housing Prices in Zip Code 22314 which includes Old Town Alexandria and Potomac Green. (These numbers do not include condominium sales.)

The first thing that struck me about this chart was the consistency in the number of sales over a five year period.  Prices and days on the market have been up and down but the number of sales has held steady.

March
Zip Code 22301

No. of Homes Sold

Average  List

Price

Average Sold Price

Days on Market

Mar 2011

26

$668,228

$654,935

70

Mar 2010

25

$771,088

$695,396

67

Mar 2009

20

$517,472

$596,508

71

Mar 2008

20

$692,560

$670.345

94

Mar 2007

25

$787,704

$740,040

140
As always, each month's sales are dependent on multiple factors including the amount of inventory, the number of priced-to-sell homes, the number of qualifying buyers, etc. etc.

For more information on properties in Old Town Alexandria, give me a call at 703.927.4554.
Michael

Posted by Michael Bergin | Currently 1 Comment »
April 11th, 2011 Categories: Old Town, Real Estate News, Things to Do
The 2011 Alexandria House and Garden Tour is this Saturday, April 16th from 10:00am to 4:00pm.
Historic Garden Week is the oldest and largest statewide house and garden tour event in the nation.
Sponsored by The Garden Club of Virginia, the tours benefit the restoration of important historic grounds and gardens throughout the state.
Each of the three dozen events offers an engaging variety of five to six local houses and gardens, most open to the public for the first time for Garden Week.
Here is Alexandria, six private homes will be open to the public.  In addition, the Lee-Fendall House Museum and Garden; the Carlye House Historic Park; Mt. Vernon; the American Horticultural Society at River Farm; Woodlawn; and Gunston Hall Plantation are included in the full ticket price.
619 South Lee Street
Vowell-Snowden House
The original structure was built around 1800 by Thomas Vowell, Jr. and later purchased by Edward Snowden, owner and editor of the Alexandria Gazette and Mayor of Alexandria.  Supreme Court Justice Hugo Black took ownership of the house in 1979 and lived there until his death.  Features include expansive grounds with a two bedroom guest house, tennis courts, pool and a boxwood trimmed rose garden with a central fountain.  Mr. and Mrs. Andrew Saltonstall, owners.
420 South Fairfax Street
Built in 1856 and purchased by the current owners in 1980, this charming clapboard house combines European, American and Asian touches.  The original working fireplace and and heart of pine floors are a perfect backdrop to a spiral staircase and a collection of European maps and prints.  A Japanese inspired garden still leaves room for vegetables and herbs.  Mr. and Mrs. Jack Clopper, owners.
605 South Lee Street
When the Niepold family bought this 1880 structure in 1934 it was still without indoor plumbing and electricity.  Extensive renovations over a 40 year period included the addition of a den and kitchen and a beautiful fan light over the front door.  The current occupant is also an artist who maintains a studio on the third floor.  Siberian elms and perennial begonias flourish in the sun filled backyard.  Mrs. William S. Hickey, owner.
210 Wilkes Street
Built in the early 1800′s, the heirs of the original owners were were John W. and Julia Thompson Burke who repurchased the home in 1852 for their maiden daughter, Miss Fanny Burke.  When the house was sold in 1945 it changed from a Victorian to a Federal style exterior.  The interior features trompe loeil paintings, a Frederick Remington painting and Louis Comfort Tiffany gold art glass vases.  Mrs. Russell Murray, owner.
518 Duke Street
This Italian Renaissance style house was built in 1852 and is "characterized by a composite cornice and bracketing of the doorway, window architraves and cornice."  Interior designer Craig Miller of Miller McCann International was instrumental in creating a comfortable house with historic significance.  An intimate garden and brick courtyard complete this impeccable home.  Mrs. Mary B. O'Conner, owner.

217 North Royal
Built by master carpenter James McGuire in 1796, he occupied the house until his death at the age of 76.  Subsequent owners used the Egyptian Revival style to update the house.  The current residents began renovations in 1997, keeping the front facade but returning the interior to the 1790′s.    The garden features cast iron fern benches, bronze statues and English boxwoods.  Mrs. Nathaniel D. Chapman II, owner.
What an incredible way to see the homes and gardens that make Old Town Alexandria so very special.
Michael

Posted by Michael Bergin | Currently 2 Comments »
March 21st, 2011 Categories: Alexandria, Old Town, Real Estate News
Let me start by saying that I love beautiful stationery.  Small sheets, folded notes, correspondence cards, calling cards – you name it, I love it.  Engraved?  Even better.
Imagine my delight then in finding the Scriptorium in Old Town Alexandria.  Tucked away in Norford Court off Cameron Street (just behind City Hall), the Scriptorium is a destination shop for anyone who wants expert advice, personal service, quality materials and a beautiful, beautiful product.
The Scriptorium is also one of the oldest independently owned businesses in Old Town.
Proprietor Judy Shavin opened her store in 1976 after her presidential candidate lost and dashed her plans to work in the White House.
Casting about for an entrepreneurial opportunity, Judy was encouraged to open a cigar store, a children's clothing store or a store for fine writing papers.  The first two options held no appeal but the third suggestion was right on the mark.
Judy did her homework, took classes at the Small Business Administration, made friends with savvy retailers and, although she lives in the District, cast her lot in Alexandria.
When asked about the biggest change in the past 35 years, the answer was easy – the use of reply cards and envelopes with wedding invitations rather than the expectation of a handwritten response.
What about etiquette questions around the proliferation of blended families and 'interesting' family dynamics?  Judy modestly says she is still learning and sensitive questions see her through.
Her best seller?  Anything by Crane.  Why?  Because Crane is 100% rag content.  In other words, the paper is not made from trees but from cotton fibers.  Wonderfully heavy, ecologically friendly and simply classic.
Judy's infallible reference is Crane's Book of Etiquette and her business philosophy is to treat her customers the same way she would like to be treated.
Having gone in for a box of Crane's envelopes and walked out with an order for engraved correspondence cards, I would say that Judy's philosophy is working just fine.
So whether you need wedding invitations, save the date cards, birth announcements, party invitations, guest books or personal stationery, the Scriptorium should be your destination.

Expect understated, elegant and tasteful, just like Judy herself.   In the all too frequent world of email invites or worse, the Scriptorium is a beacon of light.
Virginia Amos

Posted by Michael Bergin | Currently 1 Comment »
March 13th, 2011 Categories: Alexandria, Old Town, Real Estate News
Rumor has it that negotiations are underway for a new Harris Teeter in Old Town Alexandria.
An old, long abandoned warehouse at the corner of St. Aspah and Madison (and directly across from our favorite Royal Restaurant) is the supposed site.
This would put three grocery chains within six blocks of each other – Trader Joe's, Harris Teeter and Giant.
Earlier, now abandoned, plans called for a location on North Henry that would have served the Parker Gray and Braddock neighborhoods.
According to the Parker Gray Growl, the new location is "in an area that at present has no greater density than the Braddock neighborhood and which already has two operating and competing grocery stores.
This seems to demolish the City's contradictory defenses that retail is difficult to attract here due to competition from King Street and Potomac Yard or that that only ever high-density development can bring enough residents to support retail."
It will be interesting to see what happens.
Michael
Posted by Michael Bergin | Currently No Comments »
March 3rd, 2011 Categories: Old Town, Things to Do
Are you ready for a bit of the "wearing of the green?"
This Saturday, March 5, marks the 30th Annual ST. PATRICK'S DAY PARADE in Alexandria, VA.
Sponsored by the "Ballyshaners", which means Old Towners in Gaelic, the parade will feature marching bands, Republicans, Democrats, Irish Wolfhounds, Irish Setters, Irish Terriers, Irish Whiskey (oops!) and the all important KENA Shriners – you know, those large men in the small cars.
The line up of festivities looks something like this:
10:00 a.m. – Invitational Classic Car Show. North Pitt Street between King & Cameron

10:30 a.m. – Fun Dog Show. Market Square

12:30 to 2:30 p.m. Parade from West & King Streets to Fairfax and King Streets in Old Town


You're not Irish?  Not to worry, you will be on Saturday!
Erin go bragh,
Michael O'Berrigan
Posted by Michael Bergin | Currently 1 Comment »
February 17th, 2011 Categories: Old Town, Things to Do
President's Day Weekend in Alexandria promises a full range of activities from parades to an ice melting contest to free museum tours.
Starting on Sunday, Gadsby's Tavern Museum will kick off with an Ice Melt Contest in an effort to preserve its historic ice well.  The underground ice well will be stocked with several tons of ice and participants are invited to guess how long it will take to melt completely.

The event begins at 2 p.m., as a block of ice is hauled from the Alexandria waterfront at the end of Cameron Street to the ice well at the corner of North Royal and Cameron streets.
Once the ice block reaches the ice well around 2:30 p.m., visitors will be able to view the stocked ice well, purchase contest tickets, learn about the importance of ice in the 18th century and talk with George Washington outside the very tavern where he dined and danced.

On Monday, February 21st, the "largest parade celebrating George Washington's birthday in the USA" kicks off at 1:00pm in Old Town Alexandria.  Last year's parade was canceled because of a major snow storm so the mild weather predicted for the next few days will be a welcome relief.
Throughout President's Day, several Historic Alexandria sites will have Open Houses offering free admission. Those sites include:
And less you think it was all work and no play for our founding fathers, check out this video about Washington's original rye whiskey recipe.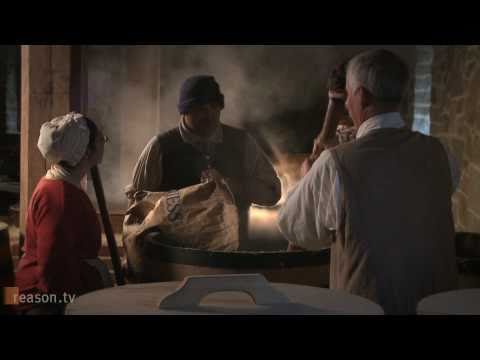 Michael
Posted by Michael Bergin | Currently 2 Comments »
February 9th, 2011 Categories: Alexandria, Old Town
The Alexandria City Council has approved a pilot program for food vendor cards on Market Square in Old Town Alexandria.
The program, which will run from early April through October 2011, will allow a maximum of eight vendor carts to sell food and non-alcoholic beverages.
The carts will be in place from 11:00am to 5:00pm Monday thru Friday and on Sunday.  Saturday hours are from 1:00pm to 5:00pm because of the weekly Farmers Market in the same location.
Tables and chairs, supplied by the city, will be available on the plaza.
What foods will be available?  We don't know yet.
Only existing Old Town restaurants were invited to apply for the eight spots in the pilot program.
Applicants will be reviewed using the following criteria:

"Food and beverage offerings should not overlap, and should offer an appealing variety of choices for customers, as to type, price and degree of sophistication to the general Old Town market.
Vendors should understand the economics of their menu offerings, the cost of the operation and the market, and demonstrate in their application that they are knowledgeable about the elements of a successful vending business.
Vendors must commit to adhere to the Rules for Market Square Pilot Vending Cart Program."
Vendors will set their own prices and retail items (shirts, hats, etc.) will NOT be permitted.
I think this will be a terrific attraction for Alexandria residents, workers and visitors.  And since our Coldwell Banker office is directly across the street from Market Square I expect to be a regular!
Thinking about buying or selling a house in Alexandria?
Let's do lunch at the new vendor carts on Market Square in Old Town Alexandria – just give me a call at 703.927.4554.
Michael

Posted by Michael Bergin | Currently No Comments »
December 29th, 2010 Categories: Old Town, Things to Do
Want to go out on New Year's Eve but stick close home?
Want to celebrate New Year's Eve but not dress up?
Want to enjoy New Year's Eve with friends, parents and children – all in the same place? 
Then celebrate New Year's Eve with First Night Alexandria.
Begun in Alexandria in 1994, First Night is a community celebration of the New Year through the experience of the performing arts that is family friendly, alcohol-free, safe, affordable and accessible to all.
Coffee shops, retail stores, hotels, museums and public building are turned into performance venues to showcase incredible local and regional talent.
This New Year's Eve bash takes place all around Old Town Alexandria, with 100 live performances at 17 venues, the Second Annual Fun Hunt, plus childrens face painting and games and a multimedia midnight spectacular with fireworks, lasers, video, and music at the George Washington Masonic Memorial.
First Night was originated in 1976 by a group of civic minded artists in Boston.  It's popularity quickly spread as communities around the country now "celebrate the ancient traditions of marking the passage of time in a present day context."
Performances start at 7 p.m. and conclude at 11:30 p.m. For more information, including event descriptions and ticket purchasing, visit www.FirstNightAlexandria.org.
Michael
Posted by Michael Bergin | Currently 1 Comment »